Gunshop
A FAMILY BUSINESS FOR OVER 130 YEARS !
1888 : Edouard Vouzelaud opens his first shop on rue de la Bouverie in Brou, in the Eure-et-Loir region of France, selling guns, bicycles and providing locksmith services.
1912 :  Adolphe-Marcel Vouzelaud and his wife, Jeanne, take over, moving the shop to larger premises on the Place d'Armes in Brou.
1931 :  As business continues to grow, Adolphe-Marcel and Jeanne move again, this time to 8 place des Halles on the market square – where you'll find us to this day.
1935 :  Adolphe-Marcel and Jeanne's only son, Maurice, completes his training in Saint-Etienne and joins his parents in the family business, now devoted exclusively to guns and ammunition.
1947 :  Maurice takes up the reins, creating the first mobile shooting range facilities.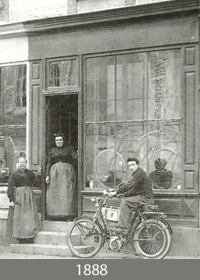 1950 :  The first fixed shooting range opens in Brou, with an on-site hunting school.
1963 :  Maurice's two sons, Alain and Hubert, join the family business – the fourth generation to do so. The Armurerie Vouzelaud company, in its present form, is founded.
1970 :  First distribution agreements: certain agricultural cooperatives are now licensed to sell Vouzelaud cartridges.
1974 :  A new shooting range is opened on the current site, covering 30 hectares on the outskirts of Brou, kitted out with the very best up-to-the-minute equipment.
1988 :  Vouzelaud celebrates 100 years in Brou! The existing workshops are gutted by fire, but the business stands strong, with a dedicated and devoted staff of 45. Facilities are rebuilt and the shop is extended: it takes more than a fire to destroy the fruit of decades of experience. Vouzelaud's own range of guns, ammunition and hunting accessories continues to grow. Here's to another hundred years!
1990 :  New cartridge manufacturing and storage facilities open in a new, bigger location next to the shooting range.
1991 and 2002 :  The arrival of the fifth generation, as Alain's son Vincent and Hubert's son Etienne join the team after extensive specialist training.
1995 :  The shooting complex continues to go from strength to strength, with the addition of big game facilities including moving targets and running boar.
2002 :  Vouzelaud registers a patent for a special counter-pressure wad system, allowing users to fire steel or similar pellet shot without risk to the gun barrel.
2003 :  Full refit and re-organization of the Vouzelaud store in Brou.
2009 : Vouzelaud opens a new boutique store on the prestigious Faubourg Saint-Honoré in Paris: Vouzelaud Relais de Chasse.
2012 :  …and then there were three! Vouzelaud Aquitaine opens at Saint-André-de-Cubzac, providing a regional distribution centre for the whole of the south-west, built on our perennial values of service and tradition.
2017 :  A new high bird tower facility is installed at the Vouzelaud shooting range in Brou: at 42 metres high, it remains unique in France.